For less than 100 euros – yes, only 100 euros – you can stay a weekend in the Austrian capital, including flight, accommodation and transport. And once you're there for next to nothing, there is still so much to experience in this incredibly hip and historic city.
Five budget tips
Book a low-cost flight with Wizz Air
With Wizz Air, a return flight from Eindhoven to Vienna costs only 19 euros if you plan it wisely. That is actually ridiculously cheap ;-).

But beware: this is only with a backpack as hand luggage. If you want to take a trolley on board, you will have to pay more. But just pack that backpack smartly and go on an adventure! Especially when you only go for a weekend, this is perfectly doable!
Arrange for a public transport card on arrival
From the airport you can reach the city centre by public transport in no time. Buy a period pass at the airport for 24 (€7.60) or 48 hours (€13.30) and you can travel freely through the city using public transport. No fees for taxis or airport pick-ups.
Sleep in a hostel
A&O Hostels are hostels with an excellent price/quality ratio. For 30 p.p. per night you can book a private double room with free WIFI and a private bathroom. The hostels are always in prime locations in the city and if you need to socialize or play a game, there's always someone to catch up with in the communal areas.
Fix your own breakfast
If you fix your own breakfast, you're holiday is way cheaper. I am not a big fan of a breakfast buffet, especially not in a low budget hotel. It often costs a lot and the choice is often quite disappointing. I'd rather have a croissant or a yoghurt in the morning.
Go on a Free Walking Tour of the city
See the most important Vienna highlights in 2.5 hours. Free Walking Tours are the cheapest way to get to know everything about this historic city in no time. Plan the free walking tour at the beginning of your trip. The city guides will tell you everything you want to know about Vienna. Plus, after the walking tour, you'll know right away what's still on your to-do list or worth an extra visit. At the end of the tour, you decide what you think the tour is worth in form of a tip.
Apfelstrudel & Sacher-Torte
After all those kilometres, you've certainly earned a break. In Austria, but also in Germany, they really have a coffee and cake culture. Coffee is an important part of social life. Meet up with friends in the afternoon in a so-called Kaffeehaus for a really good coffee speciality. Cafe Central is one of the most famous coffee houses in Vienna, where men like Freud and Trotsky were welcome guests. The coffee tastes best, of course, with a delicious apple strudel with vanilla sauce or the world-famous Sacher-Torte on the side. The latter is of course best enjoyed in Café Sacher Wien, where this lavish chocolate cake was created by Franz Sacher almost two centuries ago.
Impressive history
Vienna is not only a city of tasty creations, it is also full of museums, which are impressive from the outside and the inside. The Museum of Art History is highly recommended for its beautiful collection of paintings by Rubens, Rafael and others. The beautiful stately staircases only add to the allure of the art. You will regularly find temporary exhibitions of world-famous works from museums all over the world here. #artontour. If you are not a fan of paintings and sculptures, step into the Natural History Museum on across the street and learn all about the rich history of flora and fauna.
But not only the museums are worth a visit, don't forget the National Library. The Prunksaal is a feast for the eyes with more than 200,000 antique books, classical statues, large globes and richly decorated ceiling frescos.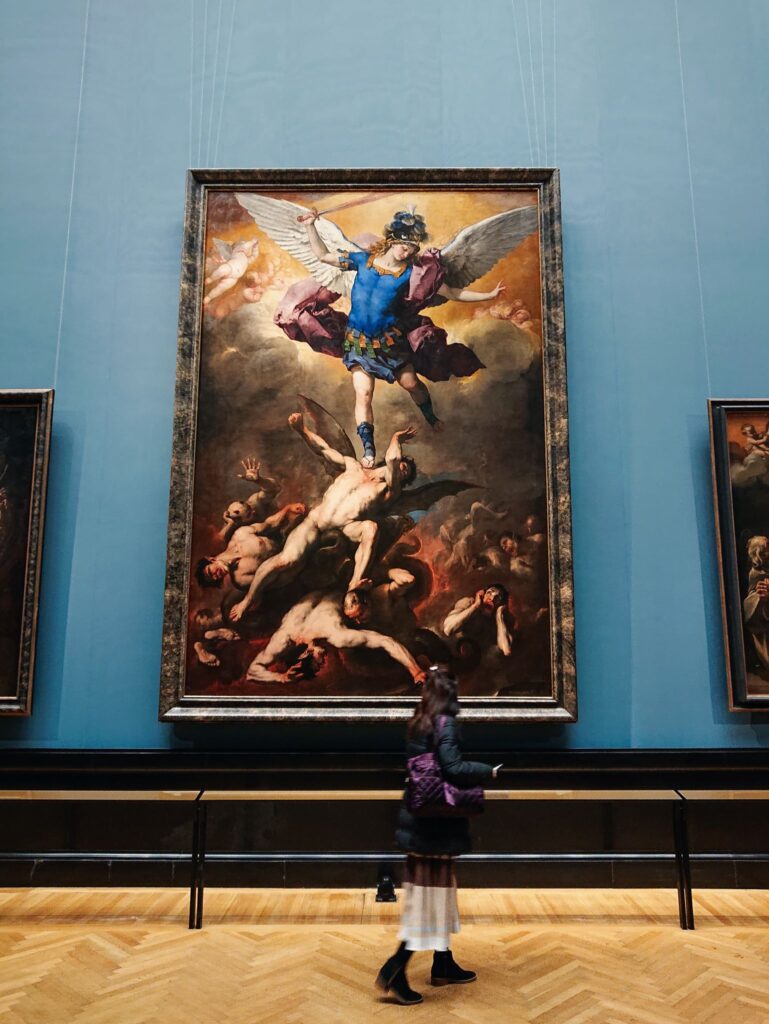 Vienna wish list
Don't forget to put these hotspots on your Vienna to-do list:
A colourful house, without straight lines. Everything is just a little bit different and definitely surprising. Kunst Haus Wien – Hundertwasser is worth a visit, even for the outside alone.
In the butterfly house in the beautiful Palmenhaus, you really feel as if you are in another world when the colourful butterflies fly around your head. The Schmetterlinghaus offers a warm, pleasant break, especially during the cold Viennese winter.
The best place to end your day is with a cocktail in the Onyx Bar in the Do&Co Hotel Vienna, directly opposite the famous St. Stephen's Cathedral. Go here for decadent cocktails with an amazing view.
Vienna is full of chocolatiers. Don't forget to take home the famous Mozartkugeln.
Taste the world famous Wiener Schnitzel, if you have any appetite left. This is a really big slice of meat. You have been warned.
If you have some extra time on your weekend, pay a visit to Schonbrunn Palace and its beautiful palace gardens. The palace is located a little outside the city centre, so make sure you allow enough time for this.