We came, we saw, we fell in love with Venice … This romantic Italian city has two faces. On the one hand, the city has a romantic appearance and a wonderfully warm Italian vibe. On the other hand, many tourists are aware of this. You will never have Venice alone 😉
I would like to give you some tips on how you can enjoy a couple of days in Venice that still feel relaxed and wont cost you a fortune.
Day 1 – Getting there
From many airports in Europe you fly for a competitive price to Trevisio or Venice Airport in Venice. Yes Venice has two airports! A special shuttle bus (with air conditioning) can take you directly to the heart of Venice. Book a return ticket for only 22euro. No messing around with suitcases on trains and different buses.
I booked a simple but good hotel with a friend on the outskirts of the city center, close to the train station and Piazzala Roma bus station. No need to drag you bags arounds endlessly over all the bridges and a nice base to discover the rest of the city. And well priced! The further away from San Marco Square, the better the price. After installation in the hotel we started exploring the city for the first time. We did this in a very fun and efficient way by joining the Free Walking tour.
Free walking tour
The budget way to explore the city. The enthusiastic guide talks about the city and gives you all kinds of tips on what you can do in Venice in the coming days. You can choose which part of Venice you want to explore. There is a morning and an afternoon tour that will take you to different parts of Venice. We had already mapped out our to-do's, but if you don't have everything planned out, you will certainly leave with a head full of fun ideas.
Day 2 – Escape the crowds
Venice is breathtakingly beautiful, but oh so busy. Especially in the summer period. And take one guess when we visited the city, Let's say we weren't alone ;-). To escape the crowds, we planned an island tour to Murano, Burano and Torcello on the 2nd day. Buy your tickets at the port or online. Close to San Marco Square you will find all boarding points. The cheapest way to travel is to buy a ticket at one of the kiosk there.
Murano is world famous for the glass artists who live and work there. What these men can do with a single piece of glass is extraordinary. It is best to go and see this for yourself. Our next stop Burano was one of my favorite places in the Venice area, because of the beautiful colored houses. The island has a wonderful relaxed vibe and is oh so photogenic. At the last stop in Torcello there is enough time to have a drink or get lunch.
Day 3 – Tourist mode…on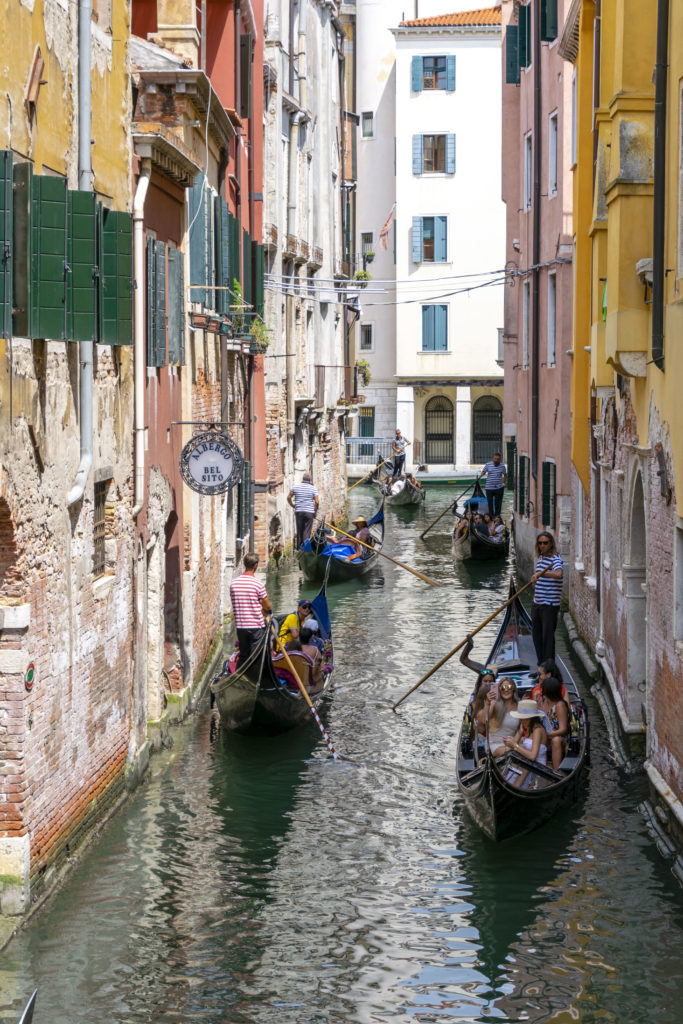 In Venice you can do, see, eat and see many things. We skip a visit to the famous San Marco (I hate to stand in line) and go explore the Palace. The wealth of the Venetian merchants is clearly visible on the inside. All shiny gold decorations. In addition to the impressive wall paintings, the palace also offers you the chance to walk across the Bridge of Sighs. One of the most famous bridges in Venice. After all that culture, we sat down on a terrace next to the Canal Grande to enjoy a plate of delicious Italian food. Time for Melanzana and pasta Vongole with a good glass of wine, while enjoying the view of the passing gondolas.
Budget gondola tip
If you want to take a romantic boat trip in a gondola, it will cost you. For a ride in one of the famous Venitian boats you lay pay a fixed amount, 100 per half hour and at sunset even 150 euros per half hour. It doesn't matter how many people are in the gondola. So sharing a gondola is also always an option. Only maybe a little less romantic. We opted for a cheap ass mini gondola ride. There are 2 places where an authentic gondola crosses the Canal Grande. The ride takes only a few minutes, but you also pay just a few euros. And hey, you did just take a ride in a real gondola 😉
Day 4: Visit Verona
If you go for just a weekend, you don't have the bonus day that we had. It gave us extra time to discover another beautiful Italian city nearby, Verona. The city of one of the most famous love stories ever: Romeo & Juliet. As we were staying close to the train station, we were there in no time. In just little over an hour you are in a different world. A world with city walls, castles, an arena and a lot of nice shops. To spend our time there as efficiently as possible (and I mean this in a fun and exploring way), we opted for a Free Walking Tour again. Within 2.5 hours we saw and learned a lot about Verona and covered quite a few km's. Time for a well-deserved Italian meal. We enjoyed some delicious pinchos (Italian tapas) with a glass of good Amarone wine. A real treat! After lunch, it was time to visit Casa di Giullietta (Juliet's House). One of the few parts that wasn't covered in our morning walking tour. Impressive to see how many women's letters about love or heartache are pinned on the wall.
We had some energy left and did a little shopping, before taking the train back to Venice for our last evening.
We came, we saw, we fell in love
What I told you before is certainly true: Venice is a city to fall in love with. The food, the culture, the views… I recommend to also look outside the city borders if you have the time, visit colourful Burano and the beautiful Verona.